I've taken a break from cooking recipes off of pinterest and have been concentrating on traditional Southern recipes. I don't think people need to confine themselves to a certain niche, but my inspirations are my grandmothers and they were definitely Southern chefs. Also, I don't anything makes you feel as warm and fuzzy inside as dishes like fried chicken, collards and sweet potato pie. Unfortunately nothing will raise your blood sugar like these dishes either! My plan is learn the cooking without alterations first (like when I made chicken and dumplings with crisco), then make exchanges with things to make it healthier when I cook it again. Already I'm making my pancakes with half whole wheat flour - half white and they're still delicious. Maybe next time I'll go 100%!
These are my study materials. Paula Deen's cookbook is amazing and I haven't been disappointed by a recipe yet. Also, she doesn't use many ingredients - sugar and butter! - so I don't have to do much extra shopping to cook from her book other than keeping fresh buttermilk at hand. Bless Your Heart and the Blue Willow Inn are also traditional Southern cookbooks and I'd recommend them both.
Today let's talk pies! I think I have always preferred making pies to cakes and in my opinion they pair better with ice cream too! Here are some recipes I've cooked in the past couple of weeks.
Bourbon Pecan Pie - the recipe in Paula's cookbook isn't available online, which makes sense. But
this
is a similar version she shares on her site.
Caramel Banana Pie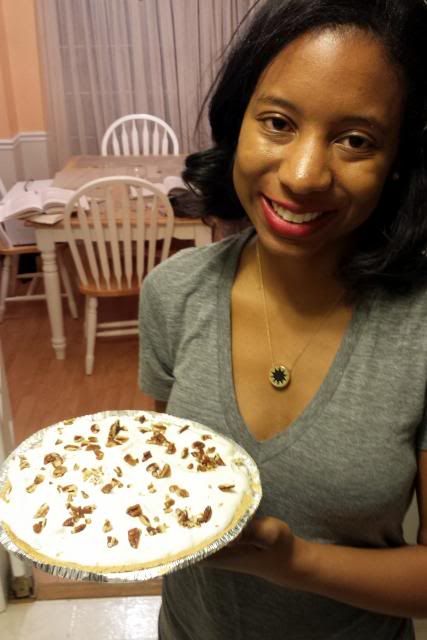 Aaron dolloped extra caramel on top of his slice :-)
The caramel banana pie recipe is from Bless Your Heart. Did you know you can make caramel from sweetened condensed milk?
Foolproof Caramel
1 can of sweetened, condensed milk
Take a can, remove the label. Put the unopened can in a large stockpot and cover with at least 4 inches of water. Bring the water to a boil, then down to a simmer. Simmer for 3 hours. Add water to the pot as as needed so that the can is never exposed. After 3 hours, remove the can from the stockpot and cool. After cooling, when you open it up, you have a creamy caramel!
I like this recipe for when you have a lot of things going on around the house and need to make an easy caramel. It is a foolproof way to make caramel and not burn it, it's also a bit creamier and less sweet then if you had just heated sugar. It's still pretty sweet though, so for many things you'll probably only need one can. You can use it to make pie like I did or drizzle it over cakes and brownies!
Enjoy the recipes! I hope you all are enjoying your weekend and St. Patty's celebrations!